(article ecrit pour Noi That, a paraitre ce mois-ci)
Relocated in Saigon' Binh Thanh District for a few months, the artists-run gallery "San Art" presents its latest exhibition entitled "Everything Illuminated". The show puts together works by nine artists and photographers.

Curated by Dinh Q.Le, artist and co-founder of the gallery , the very special exhibition "Everything Illuminated" puts in correspondence the works made by Vietnamese photographers from the 70s with the works by young contemporary artists.

The issue is the meeting of two generations: the first one born in the 40s which has been actively engaged in the war and the second one born at the end of this war and raised in a country in constant reconstruction.
It is also about the meeting of two ways of approaching photography.
Whereas the goal of the former is to document a reality - the reality of the horror of the war, the latter is conscious of the documentary role of photography but aims at breaking away from it.
Today, unlike photojournalists, artists use the photographic tool to fulfill their creative vision, to express their personal ideas.

Chu Chi Thanh, Doan Cong Tinh and Vo Anh Khanh were soldiers during the Vietnam War. Those three photographers are still living in South Vietnam and working for local agencies or newspapers. Chu Chi Thanh is also President of the Vietnamese Photographers Artists Association. Curator Dinh Q. Le has selected six photographs made by them that had been rarely exhibited and that act as starting point for the six other artists.

Ngo Dinh Truc presents here a group picture he took, gathering young Vietnamese artists posing in an easygoing way, all looking toward a different direction. Some of them wear sunglasses.
Like in most of Ngo Dinh Truc's works, it is the superposition of texts and pictures taken by him or selected from archives that gives a new meaning to the final image. Here, the image is framed by two sentences resounding like official slogans: "Nganh Nganh La Mat Tran, Nguoi Nguoi La Chien Si" ("Job Job is Front, People People are Soldiers") and "Nhung Chien Si Tren Mat Tran Van Hoa" ("Soldiers on the Cultural Front"). These slogans, associated with the attitudes of the actors don't fail to remind us of Vietnamese propaganda posters.

A photograph by Kevin German features a row of young girls wearing white ao dais, their faces out of frame, shaking little Vietnamese flags. Kevin German's work as well as Ngo Dinh Truc's work echoes ? the two striking photographs taken by Vo Anh Khanh dating respectively from 1970 and 1972.
In the first one entitled "Quan Y Da Chien" ("Mobile Military Medical Clinic"), doctors and surgeons bustle on a body lying on a makeshift operating table. Camouflaged in the vegetation, the operation takes place in the middle of a pond while a stretcher-bearer is bringing a new casualty. In the second photograph entitled "Lop Boi Duong Chinh Tri" ("Extra-curriculum Political Science class"), women are walking in a single file. Their heads are hidden under white linen; only their eyes are unveiled through two small holes. The human column crosses a stream, right in the jungle, balancing on a narrow log bridge.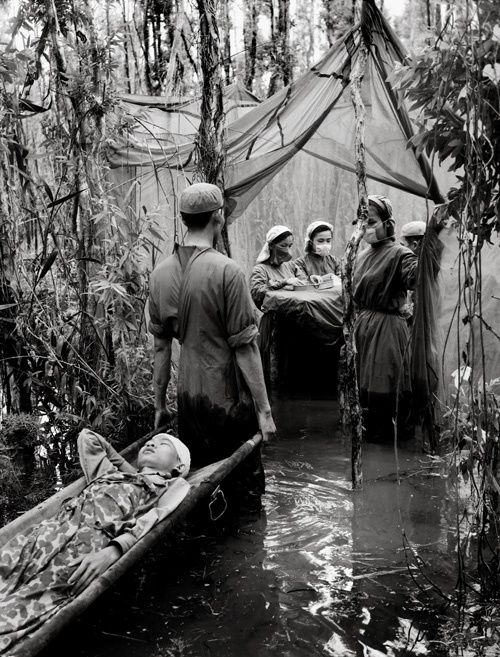 "Quan Y Da Chien" by Vo Anh Khanh

Hung Tran's "POV" series refers to the cinematographic term "Point Of View" and at the same time alludes to the name "POW" ("Prisoner of War"). This series answers to the photograph taken by Chu Chi Thanh in which we see Jane Fonda, eye rooted to the lens of her video camera, in the destroyed streets of Nam Dinh city ("Gien – Phone – Da Tham Thanh Pho Det Nam Dinh" ("Jane Fonda visiting Nam Dinh city")). In the style of fashion photography, artist Hung Tran stages a young lady in several rooms of the Reunification Palace. He explains that it is his way to compare his personal point of view with Jane Fonda's through her video camera.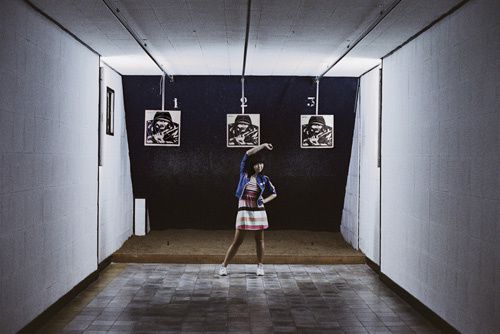 "POV" by Hung Tran

Thach Thao presents a series echoing the photograph taken by Chu Chi Thanh featuring a bombed residential neighbourhood ("Khu Pho Dau Ben Pha Binh" (« Binh Port and its town »)), dating back to 1972. Her series of four photographs represents upturned chairs, sometimes broken, sometimes carefully stacked, whose function remains blurred. As well as Chu Chi Thanh's picture, this series questions the purposes conducting human action and highlights the theme of absence.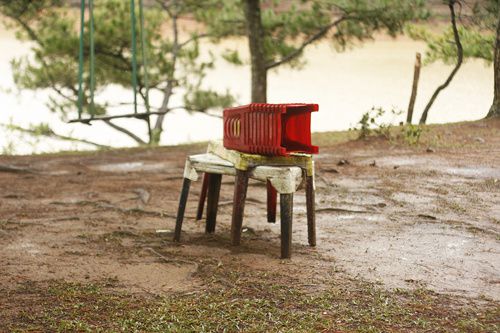 by Thach Thao

By putting together these two generations of photographers and by suggesting that the younger ones reinterpret historical documents created by their elders, « Everything Illuminated » offers us a very new reading of war images. At the same time, it gives us an overview of how the themes of memory and history are approached by contemporary artists living in Vietnam.