"To give the right honey to the right honey-bee at the right moment and at the right place"*
(a paraitre - en vietnamien - dans le prochain numero du magazine Noi That)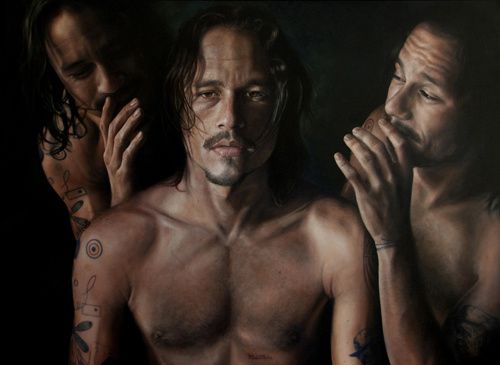 "Heath" (oil painting on canvas)

The British-born Australian artist Vincent Fantauzzo started his Asia Tour by exhibiting 26 works at Y Ngoc – Si Hoang Gallery in Ho Chi Minh City.
Borderline artists.
While it used to be easy to categorize a creator – to distinguish for example a painter from a sculptor, in the field of contemporary art artists are more and more unclassifiable.
Besides the fact that they juggle with great ease from painting to video, from sculpture to music, from drawing to performance and that they can be also graphic designers, DJs, VJs, writers, curators or teachers, it sometimes happens as well that they proved to be great professionals of marketing - following a Jeff Koons or a Damien Hirst.
This polyvalence is even sometimes claimed as a full part of the artist's work, while answering the need of earning a living.
When looking into today's creation, especially in Vietnam, we notice also artists situated on the borderline between two categories: the advocates of a strictly commercial art aiming at attracting a large clientèle and those who claim experimental or just more personal art.
That is maybe what drove artist Vincent Fantauzzo to choose Ho Chi Minh City to be the first stop of his exhibitions' tour in Asia, beyond the fact that "he is finding Vietnam an inspiration" – as he confided it to some local journalists.
The series of oil paintings exhibited at Y Ngoc – Si Hoang Gallery was composed of hyper-realistic portraits and scenes.
By passing in front of the windows of this place, we could have thought that we were dealing again with one of these copyists' galleries as there are by the hundreds in Saigon and in which painters are as clever in copying a De Vinci or a Lichtenstein as they are in reproducing the passport photograph of our sister.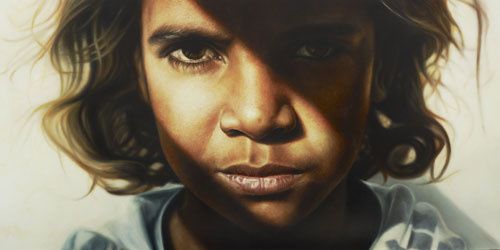 "Brandon" (oil painting on canvas)

Two portraits – that have led Fantauzzo to win the Archibald Prize two consecutive years – were highlighted: "Brandon" – portrait of the young aboriginal actor Brandon Walters and "Heath" – representing actor Heath Ledger who died a few weeks after the achievement of his portrait as he was only 28 years old. Because the original painting "Heath" couldn't be sent to Vietnam, numbered and signed reproductions were here for sale – at the price of 3000 USD per piece. Ten copies were sold on the night of the opening. Thus, the other original paintings exhibited were for sale for a few tens of thousands of dollars.
The media buzz generated in Australia by these two art works – together with a discourse made of trivial details about the lives and careers of the two actors and their deep relationship with the artist – drives us to question the positioning of Vincent Fantauzzo.
Are we dealing with a young sentimental artist, naïve and manipulated by his dealers or with a real businessman-artist, eye-catching like one Salvador Dali and playing with the Medias like Andy Warhol?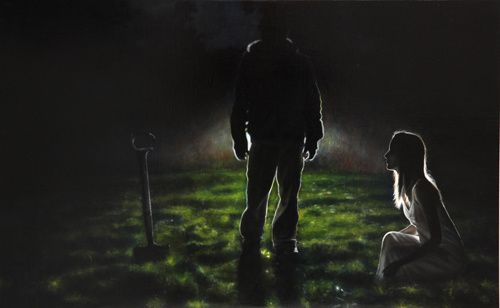 "Now We Are In This Together" (oil painting on canvas)

The artist as a schizophrenic.
The painting entitled "Inner Conflict" may be seen as an illustration of Fantauzzo's difficulty to position himself in the art world. This large triptych stages five self-portraits of the artist on a scale of 1. Four of these characters take part in a violent fight, while the last one sits in the corner and watches the scene without any reaction.
Even though this painting has been realized recently, it revives his older more narrative works, like "Now We Are In This Together » or « 11pm ».
In those paintings, Fantauzzo already showed his perfect technical skill of oil painting and of the representation of the light but reached the viewer in a far more subtle way. Through centrings borrowed from the field of cinema – obvious in "Burning" or "Point of No Return" – the imagination of the viewer is requested and the viewer is plunged into a dramatic ambiance, closer to noir cinema than to the blockbusters linked up with his last works.
Next stops of Vincent Fantauzzo Asia tour will be in Bangkok, Singapore, Mumbai and Shanghai. His works are visible on his website: http://www.vincentfantauzzo.com/
* quote by Salvador Dali