Fantasy World by Fabien Verschaere
Fabien Verschaere is a 35- year -old French artist. His abundant work has already been exhibited around the world. He recently spent two weeks in Hanoi realizing a new series of art pieces exhibited at The Bui Gallery since September 19th.

Fabien Verschaere spent a very long time in hospital when he was a teenager. At this time he started to create an imaginary world putting on stage heroes of his childhood. Since then, his little universe hasn't stopped increasing with new elements borrowed from fairytales, pop culture and his personal life.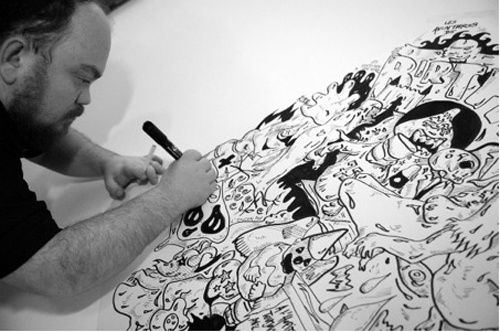 Now he says about his work that it is « like a hard drive that turns into an iconographical library". Therein to realize his art work, he picks up symbols and characters and puts them together according to his current inspiration. He ignores their first meaning to rather link them back to their formal characteristics.
Thus, witches or princess castles, clowns, dice or playing cards, skulls or winged hearts are mixed together, hovering round his recurrent self- portraits. Their associations become decorative and narrative compositions.
Though, through the represented symbols, fate and death seem to be the guiding themes, Fabien refuses to acknowledge it. He prefers to speak about the loss of meaning of the symbols driven by fashion . However by drawing he allows his fantasy and fears to break loose and he lets us guess the saving function of his work.
Flowers with twisted smiles, scared mushrooms, Mickey and Batman hideously distorted… These childish figures, despite being still a little frightening, are attractive because their potential power is softened by the adamant use of bright colors or black and white drawings done the way of comics. They overrun all the space into the darkest nooks and crannies, like our childhood monsters.
Fabien Verschaere often calls upon us to literally enter his mind, his imagination.
For example when he exhibited his work at « La Force de l'Art » in Paris last year, he presented a swarming art installation in a container coated with a brain's pattern.
Sometimes it is the drawing of his own head on the wall, filled with the elements of his mysterious world.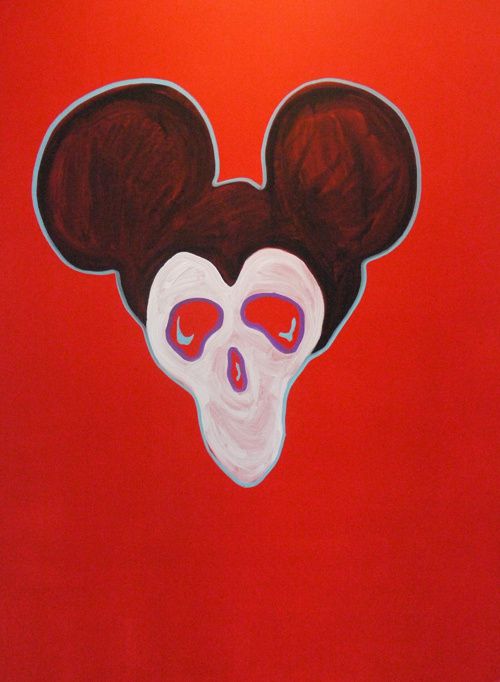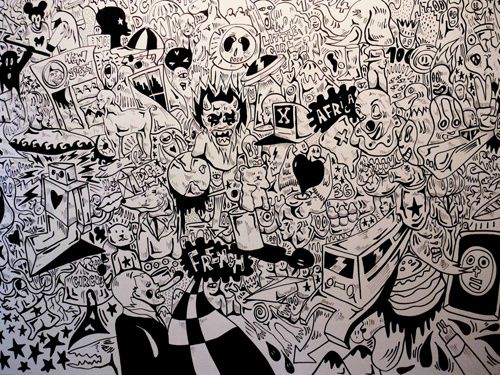 For his exhibition called « Fantasy World » at The Bui Gallery, Fabien created a series of paintings on canvas and wall-drawings in situ, staging his usual characters and some new ones inspired by Hanoi and Vietnam. Thus, he intended to « propose stories mixing popular images to images that come to (his) mind in relation with the space."
He also stayed some time in Bat Trang ceramic village to achieve a series of tables, stools and plates covered by his drawings.

After his exhibition in Hanoi, Fabien Verschaere is currently presenting his work in Singapore. Then, he will have a show at Enrico Navarra's gallery in Paris and will be part of « Art KYIV », the international contemporary art fair in Kiev.