Zoe Butt, an art curator in Ho Chi Minh City
Zoe Butt is a young Chinese-Australian curator who moved to Ho Chi Minh City recently. Endowed with a Hons. Bachelor in Art History and Theory, majoring in postcolonial Asian studies, she has been working as Assistant Curator in several galleries in Australia including the Queensland Art Gallery, where she worked on the development of the contemporary Asian art collection and the Asia-Pacific Triennial of Contemporary Asian Art. Her career brought her to Taipei and Beijing before coming to Vietnam.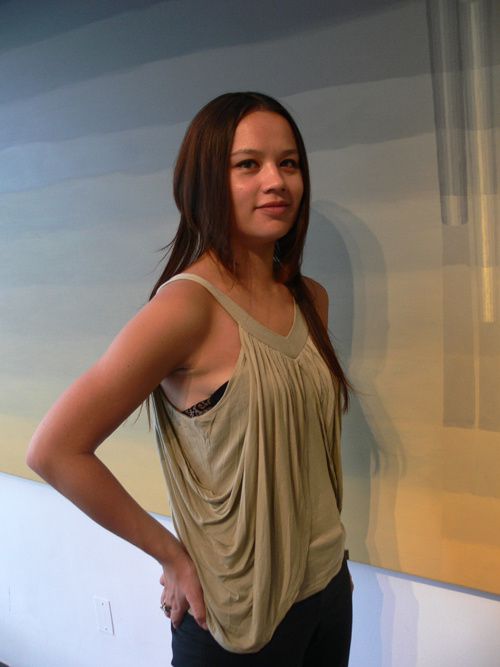 You just arrived in Saigon to work as a curator for San Art... First of all, as it is not a very standard job here, could you give me your definition of what a curator is ?
The word "curator" is a Latin word which means "to care for".
For me, a curator is someone who cares about the work of artists and about why they have chosen to do what they do.
Concretely what does a curator do when he works for a museum or a gallery?
A curator working in a museum is responsible for organizing exhibitions of works of art. If that museum also has a collection, then one of the important duties of that curator is to buy works of art for that collection.
A curator working for a small art gallery like San Art it is a little different.
San Art is a small non-profit art space that does not have an aim to collect. Its main aim is to encourage critical conversations about contemporary art. We do this by inviting artists from Vietnam and overseas to show their work and participate in educational programs. A curator in this kind of gallery is responsible for organizing these exhibitions and educational events.
Is there a main focus in the exhibitions you want to program at San Art?
On which criteria will you select the artists you will show?
I feel it is too soon for me to answer... Perhaps in the interim I should say that what San Art has always sought as criteria for assessing the candidates for San Art exhibitions is a complex set of questions about concept and technique…
San Art has always tried to give its local audiences an opportunity to push their ideas of what is considered contemporary art.
It has done this by choosing artists whose works speak to local, cultural, social or political issues, or international artists whose works employ media and ideas that are little seen in Vietnam.
It is of course difficult to satisfy everyone's understanding of what is considered a work of art, but then the critical thing here is giving people the chance to talk about what an art object is, what it represents, what it stands for or means to someone.
It is important, I think, to accept that it is ok to disagree… I believe that a healthy cultural community will embrace the fact that difference of opinion is healthy. It creates debate, pushes people to think differently.
Personally, what I hope San Art can do in the next year is to get a series of exhibitions where overseas Vietnamese artists and local artists work together at San Art. I am working on funding applications to try and get money for this, in order to have Vietnamese artists from abroad travel to Saigon and work here for a while.
Except the lack of critic here, from your point of view what are the strengths and weaknesses of contemporary art in Vietnam?
I actually really don't like answering such a thing… These ideas of strength and weakness set up relationships that I find are not helpful. I would rather say that a community of people who are proactive, motivated, inspired, driven, eager to test themselves and their ideas is a healthy community.
And this is what I believe San Art can strive for… Or at least we, perhaps somewhat idealistically, believe that it is possible to nurture this…
Also, artists in Vietnam are without access to a lot of information that others abroad have the luxury of - publications, exhibitions, artistic role models.
This situation means that they have a tough time of getting other ideas to contrast with their own.
People often compare the situation of contemporary art in Vietnam to the one in China 10 years ago. As you worked in China before coming, what is your opinion about it?
Yes, they do say that Vietnam is like China 10 years ago but I disagree.
China 10 years ago had a strong network of artists working together underground between Beijing, Shanghai and Guangzhou. They organized events collectively; they hung out together whenever each visited each other's cities in order to devise more plans of artistic events or happenings…
They were politically motivated, socially much more along the line of a kind of activism and they read and read and read so much that their ideas really pushed the logic of what was considered "contemporary" within the China context. This situation is not occurring in Vietnam.
10 years ago also many of the artists in China had their own studios or at least were sharing spaces of work. Here in Vietnam, the idea of studio space is not considered an absolute necessity.
Where were you working before coming to Vietnam and what did push you to come to work here?
In China I was working for one of China's most prominent contemporary art organizations: "Long March Project". I was Director of International Programs; I looked after everything that the organization did abroad.
And for a little while I was also Deputy Director of Long March Space, looking after the commercial operations, but my main focus was working on Long March Project.
I have been working on the contemporary art of Vietnam, on a personal basis, since 2006. I took my research to China to further projects there - hoping to create projects between China and Vietnam. But I found that I was increasingly frustrated at how much work I could help with here in Vietnam, while my role in China was really, largely management.
So I decided to take a chance and move to Saigon to push my own curatorial practice and research and see if I can truly help in the way that I think I can help in getting artists to test themselves, think harder.
More information about Queensland Art Gallery on the website: http://qag.qld.gov.au, the Long March Project on: http://www.longmarchspace.com, San Art Independent Artist Space on: http://www.san-art.org,